Needle felted pieces are great, but creating your own has to be the ultimate in fun.  The best part of it is that no two pieces are exactly alike.  No matter how hard you try to hide it, each piece will illustrate just a little bit of your personality.  Add fun to the mixture and what more can you ask?  Here are a few kits I have available.  Please keep in mind that shipping and handling costs need to be added to the price of the kits.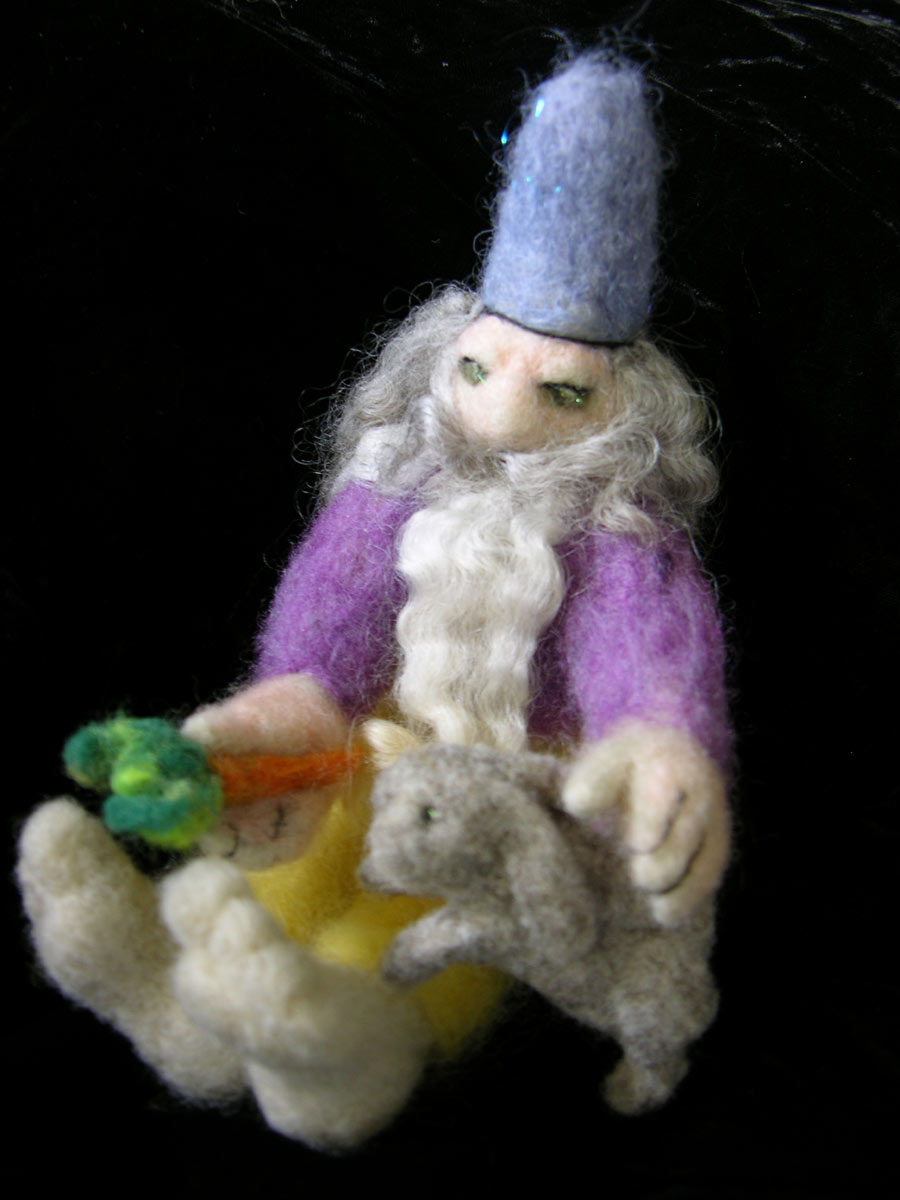 We do love bunnies here and this little Gnome is no exception.  He takes very good care of his woodland friends.  This kit is for people who have done a few needle felted pieces before.  Cost of kit is $24.00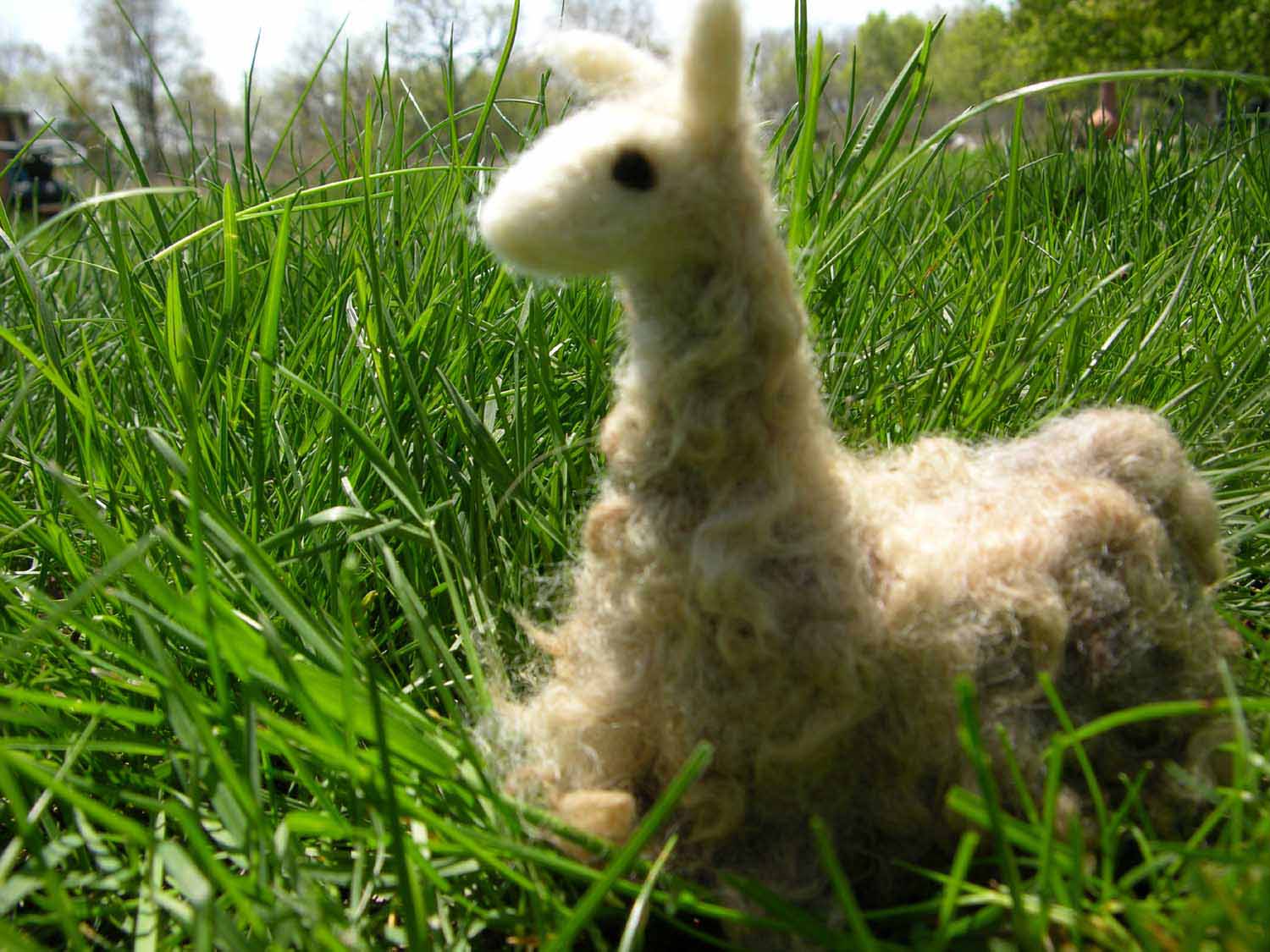 Llinda's Llazy Llittle Llama is one of my most popular kits because she is fast, fun and easy.  Her wool is not llama which is better, I think for a beginner and her body is not difficult to make.  If you are lucky enough to have your own llama, you could toss out the included locks and add your own llamas fiber.   The cost of her kit is $12.50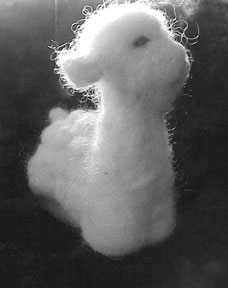 Sittin' Sheep is sweet and easy to make.  She is fun in a Christmas tree, Nativity Scene or just to have a herd of them on display either around Christmas or Easter or any old time.  You could be the first on your block to have a maintenance free herd of sheep.  Cost of kit is $8.50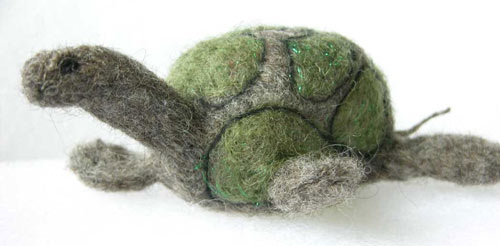 Tilly the Tortoise is very popular with kids.  She is fairly firmly felted so needs a little more patience than some of the other kits, but she is not too difficult if you want to devote a little more time to her.  Adding the black outline to her shell color is also a little time consuming but if you are a beginner, you can learn a lot from Tilly.  Cost of kit is $14.00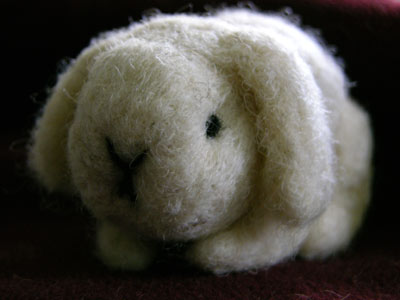 Left:  Here is another favorite for beginners.  Small Bunny has instructions to make either a lop eared bunny or a normal eared bunny.  Small Bunny is fairly firmly felted to withstand a lot of handling.  A little patience may be needed to get the critter as firm as it should be.  Cost of kit is $10.00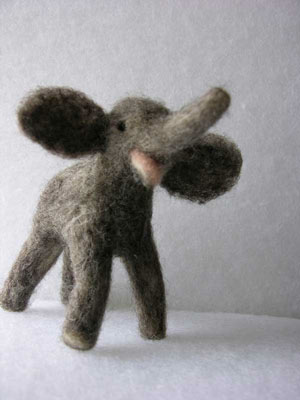 Kids seem to gravitate towards Eli the Baby Elephant.  Well, alright, adults like him, too.  He does appear to be a happy baby and who can resist that?  Eli is not for a total beginner, though.  Perhaps understanding needle felting with a few other projects would be good before attempting Eli.  He is firmly felted and the cost of his kit is $16.00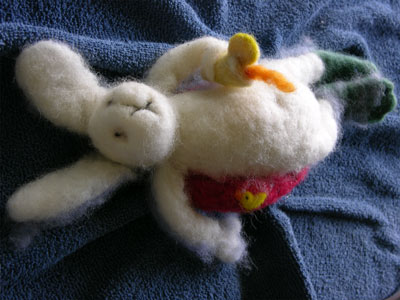 Left:  Floatin' is a bunny just drinking his lemonade and Floatin around his pool with flippers on so he can take a dip when he feels the urge.  I suggest you have several projects under your belt before trying him as he has many small pieces and colors.  Cost of kit is $23.00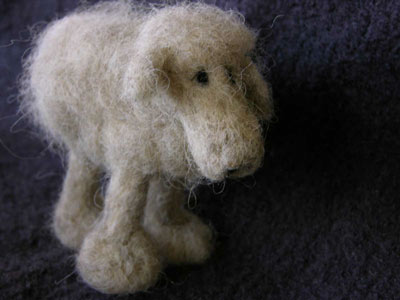 Here is Sheeplish.  He is a silly little guy who is softly felted except his legs.  He is not terribly difficult, but care does have to be taken making his legs so they all match.  Cost of kit is $12.00

Although I am set up now to accept PayPal payments, I still haven't been able to figure out how to connect PayPal to this site.  Hey, I'm old and this all takes time!  If you care to order something, please contact me directly and use my e-mail address to make the payment.  As always, if you have any questions, please don't hesitate to ask.  Thank you again for your patience.  lkm.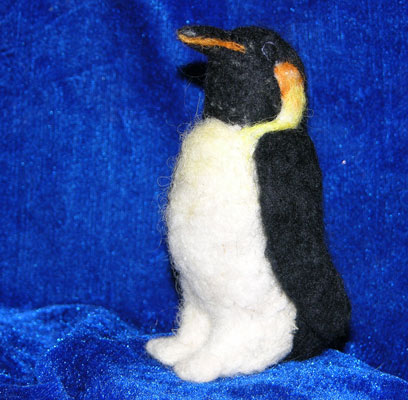 This little guy measures about 4 3/4 inches tall and is about 2 1/2 inches across the chest. Made of softer fiber, it will take more effort to get the body firm than in our other kits. Cost of this kit is $12.00

This little creature is art with a function.  I call him Porkeepine and he is indeed a pincushion.  He is needle felted "in the grease" meaning his wool has never been washed.  I'm told that quilters like to store their pins and needles in greased wool to keep them from rusting and maintain the sharpness of the needles and pins they use so often.  Being that he is felted in the grease, he does have the odor of natural lanolin in him and working the with the wool gets your hands feeling very smooth, indeed.  He measures about 4 inches long and 2 1/2 inches tall.  He is very easy to make and would be a very nice gift for any quilter.  Cost of the kit is $8.00.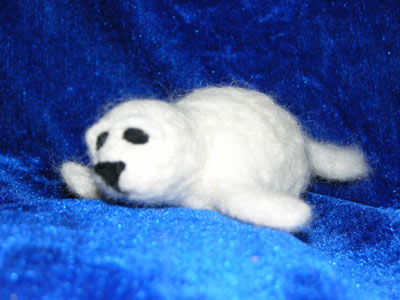 Our baby seal is fun to make and not very difficult for beginners.  He is firmly felted and is about 1 1/2 inches high and just over 6 inches long.  The cost of kit is $10.00.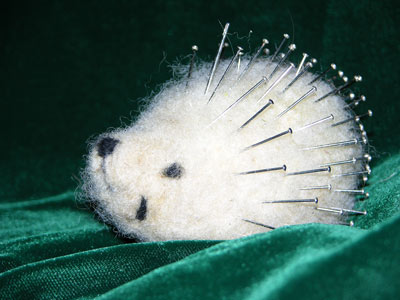 Kits for someone who has done needle felting before and can make basic shapes.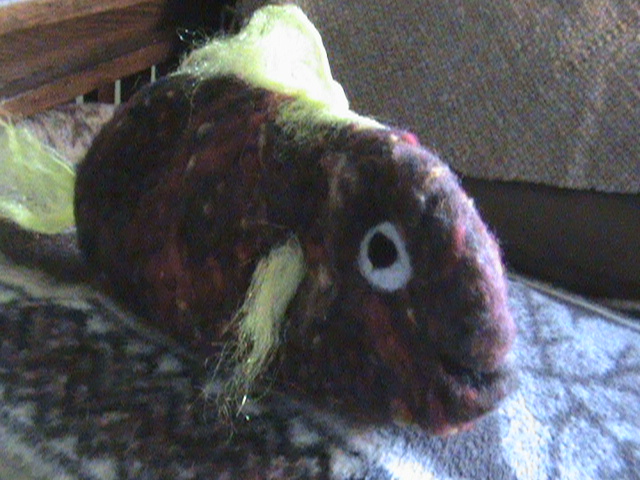 Calypso Fish is a very easy kit using about any wool you desire.  Start out using a 6 inch Styrofoam cone.  You load the cone and remove it then collapse the fish and decorate.  Cost of kit is $12.00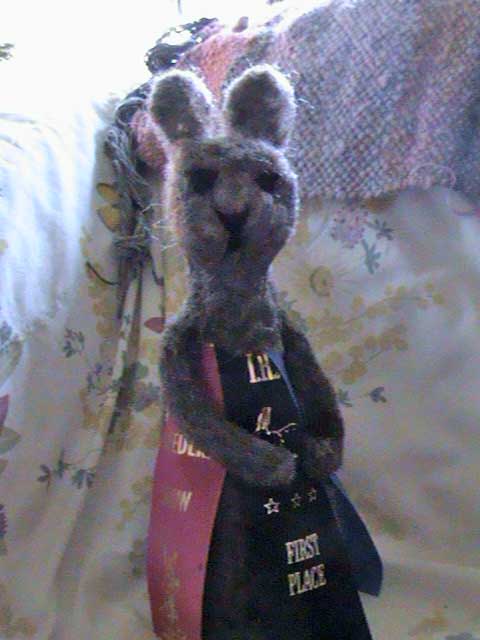 Our Ribbon Display bunny (or kitty) is perfect for people who compete in either 4-H or any other competition in which you can receive ribbons that you don't know what to do with.  Also made on a 6 inch Styrofoam cone, you leave the cone in for stability and attach your ribbons to your bunny or kitty.  Price of kit

(including cone) is $12.00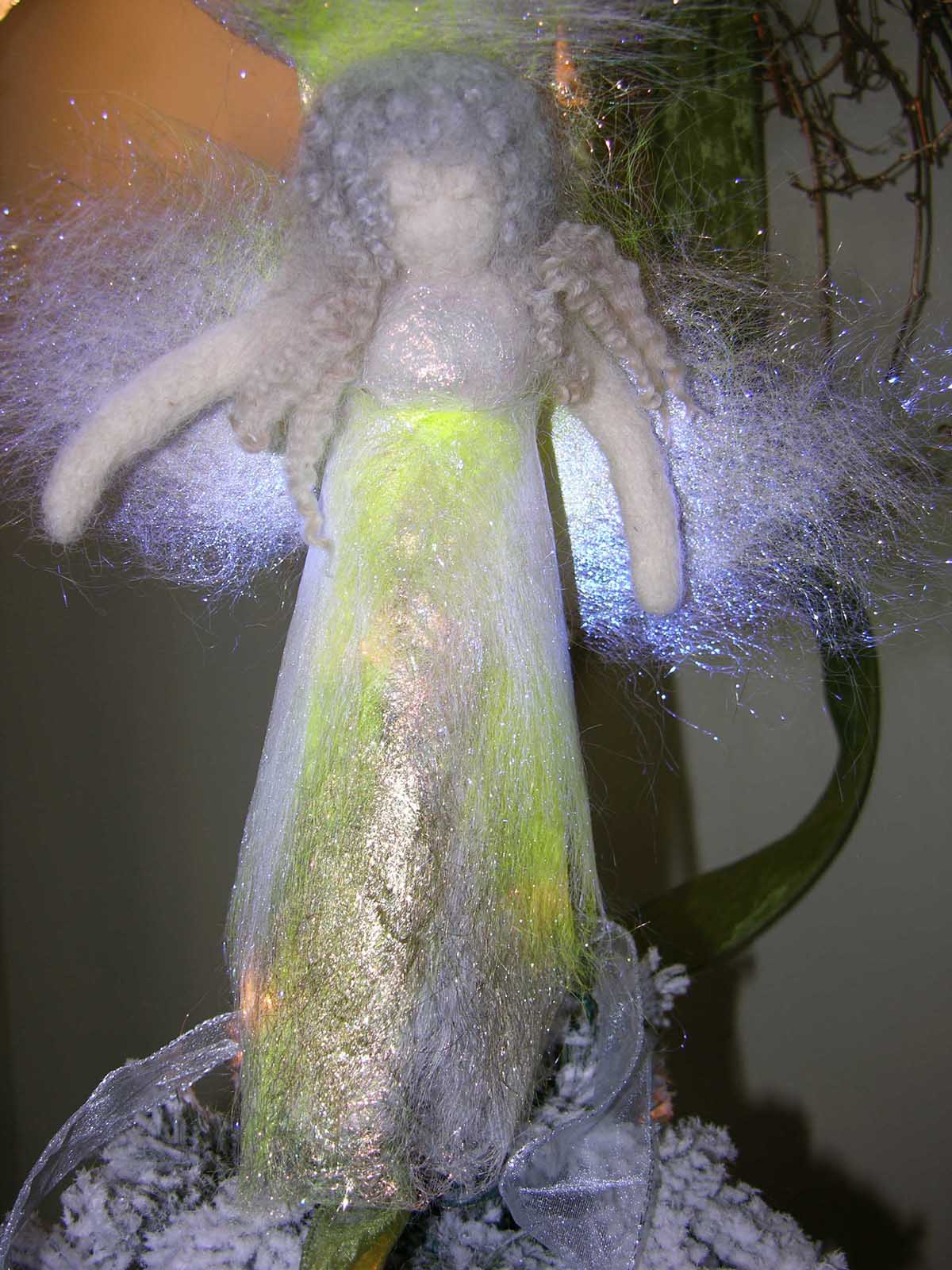 Heavana's head, arms, bodice and hair are wool.  Her wings, crown or halo and dress are made of Angelina.  She can be made with an iron and a heat gun or just an iron.  She can set on the top of a tree or put her over a cone cut to her size to display her anywhere you want!  Cost of kit is $16.00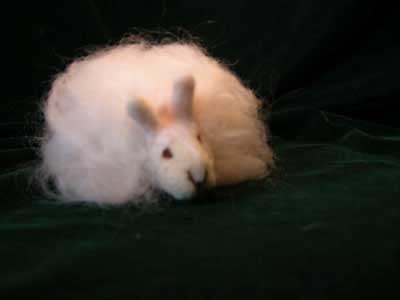 Our English and French Angora bunny kits are fun and easy to make.  Although they are not made with real bunny fur, it would be easy to add your own rabbits' fuzz in the place of what is included in the kit.  Our kits cost $9.75 each.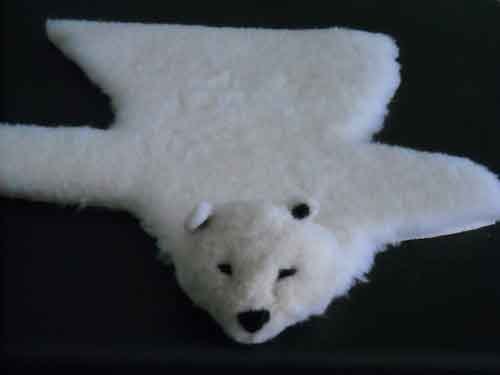 Our Genuine Faux Bear Skin Rug is one of our new kits.  Please note: NO Faux Bears have been injured in the making of this rug.  The body is wool on a backing and the head is needle felted.  This is a fun project for people who collect dolls and would like an accent that is as personable as the doll itself.  He works up fairly quickly and has a furry head.  Cost of kit:  $14.00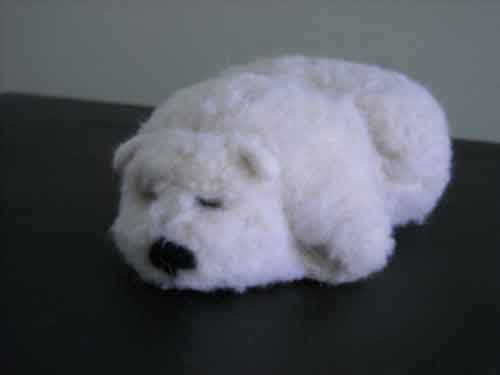 Below.

Wool E. Bear is a fun, albiet low keyed fellow.  He enjoys a nice nap after a rough day fishing.  Mr. Bear is needle felted then covered with fur.  Cost of kit is $14.00